KSD301 Thermostat is a small bimetal snap-action thermal protector switch with shell. Action principle is that the component bimetal disc jump at the change of temperature, the contact point would be closed or opened rapidly to connect or disconnect the circuit.

1. The specification for this T23, T24 customized KSD301 thermal protector switch is as below.
Brand

Light Country

Product

KSD301 Thermal Protector Switch

Model

T23,T24

Type

Automatic Reset(Nomally open or Normally closed)

Electrical Rating

16A/250V

Operating Temperature

0℃~180℃

Differential

100,000 cycles

Bracket

C ty

pe, X type, could choose based on below simple specification or customized.

Terminal Orientation

0°, 45°, 90°...customized, could choose or customized.

Case

Phenolic

Circuit Resistance

50mΩ or less

Dielectrical Strength

AC 1450V for 1 min.

Product Certificate

UL/VDE/CQC

Manufacturer Certificate

ISO9001/ISO14001/IATF 16949

Application

Household, Office, Electrical, Industrial, Communication
2. Common specifications could be chosen. If you could not find exactly the one you want in the picture shows, you can refer to below simple KSD301 Thermostat Specification, choose the component style you want or share with us the detail requirements, we will support customized production for you.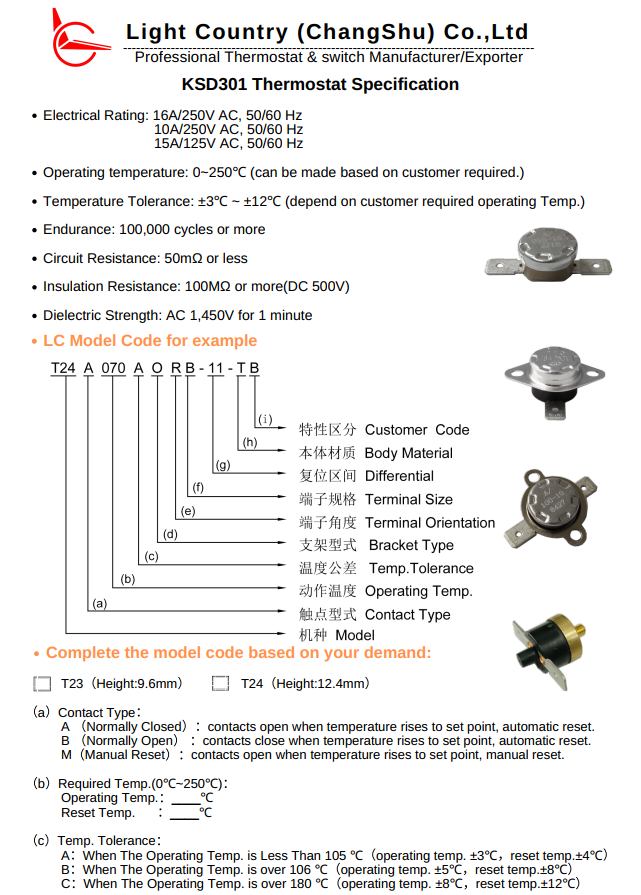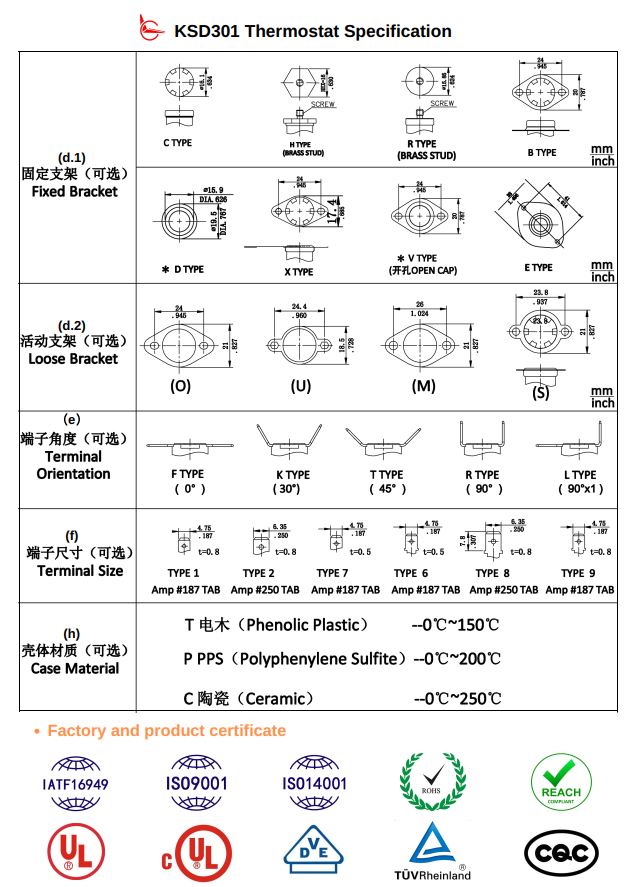 3. Attentions about KSD301 Snap Action thermostat installation.
1) During snap action thermostat using process, need to avoid moisture and pollution, otherwise it will affect the electrical performance of the product. Recommended bimetal thermostat working environment is that relative humidity ≤90%, no contact with corrosive and flammable things.
2) During installation, need high attention that the temperature-sensitive surface should not be deformed, and the top of the cap should not be collapsed or deformed, so as not to affect the temperature performance and electrical performance of the product.
3) Snap action thermostat shall be installed with cap connected with the grounding metal parts or the power grounding wire of the equipment to reduce the electromagnetic radiation and interference signals of the complete machine.
4. FAQ
Q1: How can we get a quote?
A: Please offer the specification of the product, such as operating temperature, case/bracket style, application, quantity etc. Picture or drawing are welcome for our reference.
Q2: How can we get a drawing?
A: After confirm the detail specification, we will provide the drawing via E-mail, WhatsApp, Wechat and other ways.
Q3: What is the MOQ?
A: Normally our MOQ is 1000 pcs. Larger quantity could win lower price. We can support small trial run quantity.
Q4: What about the lead time?
A: For KSD301 Thermostat sample making, it usually takes around 7~10 days.
As for purchase order production, lead time would be around 20~35 days.
We will try best to support to shorten the lead time if any urgent order.
Q5: Which payment terms you can accept?
A: T/T or pay via PayPal in advance, could talk based on customer actual status.
Q6: Guarantee?
A: We offer 1 year guarantee.
Q7: Package carton dimension.
A: For 1000pcs, use 38*29*25mm carton.
For 2000pcs, use carton with 56*38*25mm or 41*30*21mm.
Q8: Express or Forwarder for delivery.
A: Customer could assign a express or forwarder for delivery, or we ask our source to do it if customer think it is more cost-saving.
5. Company introduction.
Light Country Co.,Ltd. was founded in 1985 in Taiwan, Dongguan branch built in 1997, Changshu site in 2004.
We dedicated on thermal protector and switch.
Our main products are KSD301 thermal protector switch, rocker switch, push button switch, water-proof switch, photoelectric switch, slide switch and rolling-ball vibration switch.
These parts are widely used in household appliance, electrical products, office equipment, industrial facilities, medical devices and so on.
The switches could be customized designed based on end-customer's demand.
To provide customer best service, we're with integration of R&D, production, sales and post-sales as well. We've got ISO9001, ISO14001, CQC, UL, CUL, VDE, TUV, SEMKO, NEMKO, KC certificate, comply with ROHS/REACH regulations.
We promise reasonable price, stable quality, timely delivery and superior service.
Thanks for your time, kindly let us know if anything we can help, and contact us via below ways,
Sales: Thomas Lee
Tel: +86 138 6234 1050
Mail: lixin@liangqundianzi.com
WhatsApp: +86 15850802713